7 juin 2009
7
07
/

06
/

juin
/

2009
13:18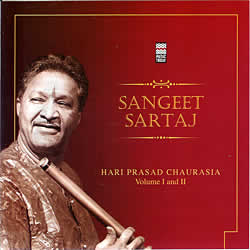 Pandit Hariprasad Chaurasia est le plus grand joueur de flûte bansuri vivant. Sa remarquable technique de respiration et sa maîtrise de la subtilité de son instrument de bambou sont inégalées à ce jour.
Né à Allahabad en 1938, Pandit Hariprasad Chaurasia ne vient pas d'une famille de musiciens, contrairement à de nombreuses lignées de virtuoses indiens. Son père, fameux lutteur, l'aurait bien vu suivre ses pas, mais le jeune Hariprasad, malgré un bref passage sur le ring, est bien plus attiré par la musique. À 15 ans, il décide d'étudier le chant classique, sous la bienveillance de Pandit Raja Ram, à Bénarès (aujourd'hui Varanasi). Peu après, le délicat son de la flûte de bambou (bansuri) de Pandit Bholanath parvient jusqu'à ses oreilles et le fait sans hésitation changer d'orientation. Quatre ans plus tard, il joue pour All India Radio à Orissa et acquiert rapidement une notoriété qui le catapulte à Bombay, où il continue de perfectionner sa technique sous l'influence de grands musiciens, notamment Shrimati Annapurna Devi, fille du légendaire Ustad Allaudin Khan.

C'est sa remarquable technique de respiration, sa maîtrise inégalée de toutes les subtilités de son instrument de bambou et son style à la fois innovant et respectueux des traditions, qui ont décoré Pandit Hariprasad Chaurasia de nombreux prix et honneurs en Inde mais aussi dans le monde entier. Reconnu pour sa contribution exceptionnelle au monde de la musique, il a notamment reçu le prix Padma Vibhushan, deuxième plus grand honneur civil indien. Aux côtés de Shivkumar Sharma (santur) et Brijbushan Kabra (guitare), il signe Call of the Valley en 1968, disque qui s'impose comme un incontournable de la musique hindoustanie.

Avec la volonté de laisser planer dans les esprits le son de sa flûte au même titre que le dieu Krishna (représenté avec un bansuri) est partout en Inde, le maître diffuse son art dans le monde entier et rencontre d'autres musiques avec John McLaughlin, Yehudi Menuhin, Jan Garbarek ou Jean-Pierre Rampal. Il donne actuellement des cours particuliers pour des musiciens passionnés et dirige le département musiques du monde au conservatoire de Rotterdam.
Note :